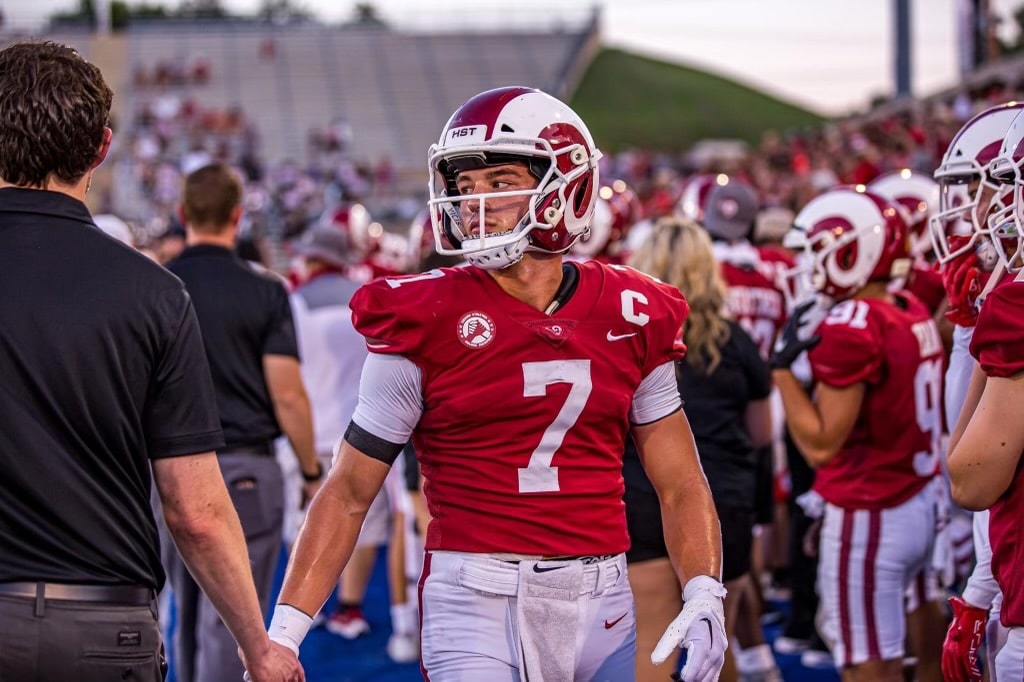 Written by DERRICK SMITH
Entering his senior football season, Cole Adams had a lot to be excited about.
Adams was a receiver for the Owasso Rams, who was one of the favorites to be the state champion in Class 6A. In June, he committed to play football at the University of Alabama. Everything pointed to a great final season of his high school career.
Unfortalty for Cole, that excitement did not last long.
The Rams' first game of the season was against the Bixby Spartans in the "Battle of the Burbs" played at H.A. Chapman Stadium at the University of Tulsa. Cole suffered a season-ending injury in the first quarter and his mom, Kristi, remembers it well.
"Cole took a hit to his left shoulder. He continued to play until halftime when it was decided he would not play the rest of the game," Kristi said. "We had an 8:00 am appointment the next morning with Dr. Ian Goodman at Tulsa Bone & Joint when it was determined to be a grade five AC Joint tear."
While he was in the moment, Cole was not sure exactly what had happened but he knew it was not good.
"When it first happened I thought I had a stinger in my shoulder," he recalled. "It happened in the second possession of the game, but I played through a couple more possessions and it kept getting worse. I went to my strength coach, Coach Johnson, and told him I think I did something to my shoulder, it was not feeling right. The team trainers looked at it and thought it was most likely an AC joint sprain, and said if I could play through the pain I could go back out with an AC wrap. So at that point, I was going back into the game. At halftime, they took my shoulder pads off and knew immediately it was bad. I was feeling so many different emotions at that point, I didn't really know what to think."
The good news for Cole was that there was a doctor on the sideline and they acted quickly to help him as best as they could.
"Cole was so blessed to have Dr. Goodman on the sidelines at the time the injury occurred, it isn't often that your surgeon actually witnesses the injury take place," Kristi stated. "Dr. Goodman got us in quickly the next day and was the one to tell Cole that he would need surgery that would ultimately end his high school football career. When giving the news Dr. Goodman focused on Cole's future at Alabama, and how his physical therapy would lead him into Tuscaloosa ready to hit the ground running."
Dr. Goodman is a graduate of the University of Central Arkansas and the University of Arkansas for Medical Sciences. During his residency at Orthopedic Surgery, San Antonio Uniformed Services Health Education Consortium, he was on active duty in the US Air Force. He has also served as a team physician for the University of Kansas Jayhawks football and national championship men's basketball team, the Kansas City Chiefs, and the Kansas City Royals.
"Being a team physician with the Owasso Rams has been an honor this year," Goodman said. "I have always enjoyed the camaraderie of being a part of a team and there are few better in Oklahoma to be a part of than Owasso High School.
"Everyone is extremely motivated and professional; From the school administrators to the coaches and athletic trainers all the way down to the incredible young men and women who are the athletes we care for. They all are what makes this such a great institution. I look forward to a continued relationship and caring for these young men and women for years to come."